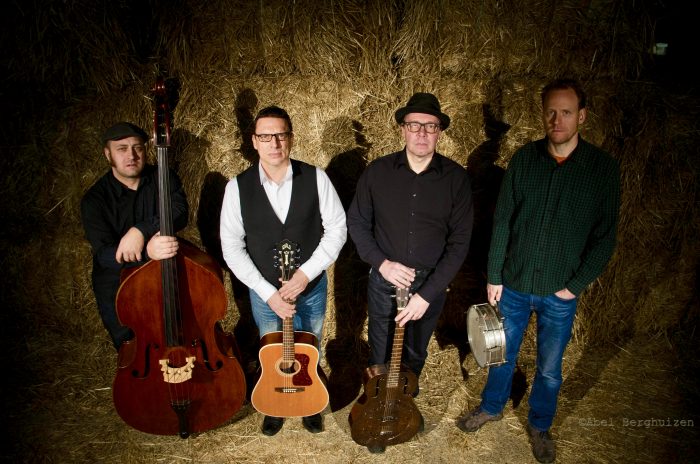 Walter Rootsie and his Blue Connection
Zondag 15 september
zaal open 16:00
aanvang 17:00 uur
entree 10,= euro
Walter Rootsie and his Blue Connection
Americana band from Finland formed in 2005 by singer songwriter Walter Rootsie from Amsterdam, Holland. A Dutch core in a Finnish roots band. The other members are from Finland. Walter Rootsie plays next to his Americana band for years in Finland as sideman harp player, singer in many roots band in Finland. Played in legendary rockband Geronimo (featuring Herman van Boeyen (ex Vitesse) and Pablo Minnoli (ex- Laberitho).He made in 2015 underscore music and composed , performed some songs for a BBC rewarded documentary "The Only One Left" by Simona Manni.
Walter Rootsie and his Blue Connection is an esteemed live band, playing a divers set of own songs. Playing homemade singer songwriters songs from a musical blender with pop, country, folk, Hot Texas blues, jazz, rockabilly, blues, rock influence with their own sound. You hear Finnish tango, intimate story ballads, heardland rock songs, Voodoo swamp adventures , spinning Texas blues and other divers songs and sounds. Band members have an experienced background in blues, jazz, roots and rockabilly bands.
Band made several albums like "Get Up And Go" and with their latest album "Dark Water" a successful worldwide release. This album got good and highly acclaimed reviews from international press and also been played throughout the world at roots and blues radio stations who have put them at their station playlist top ten. "Dark Water" album was for example 3 months at top ten playlist of Goethe Radio, Austria , Hifi City Radio, Hungary , Roots Radio Italy and many more. On board of Lufthansa airplanes in the best roots playlist. #1 radio hitplays singles: "Forget Your name", "Waiting" , "Criminal In Grain" and "Running Down Slow" .
Walter Rootsie – Acoustic guitar, electric guitar, harp, percussions, lead vocals
Anssi Lehtivuori- Drums, percussions, backingvocals
Pete Bergman – Bass guitar, Standing bass, guitar, mandolin, backing vocals
Parska Saharinen – Electric guitars, Slide guitar, Dobro
Reference: John Hiatt, Wilco, Tom Petty, Calexico, Fabulous Thunderbirds, blues of all sorts and sounds